More recently, Rogue Research has extended the applicability of the system beyond neuroscience research into more general applications in veterinary medicine.
Brainsight brings the same benefits of neuronavigation for biopsy guidance and surgery planning and guidance that is commonplace for human treatment. Our manufacturing facility has decades of experience in manufacturing custom neurosurgical tools for human surgery and we have been using that experience to adapt these tools for effective use in veterinary applications.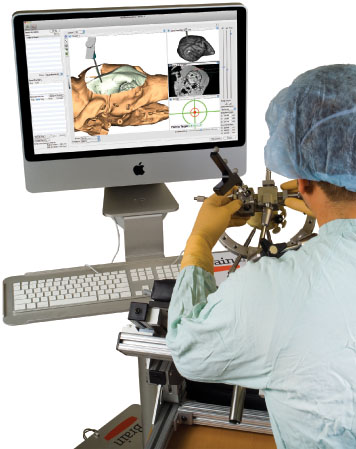 Brainsight® Vet brings the freedom and flexibility of frameless stereotaxy, and by using our novel fiducial marker technology, the accuracy of frame based systems–without the frame.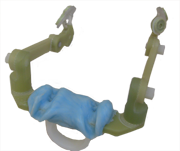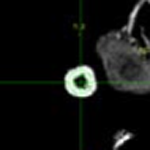 Fiducial Markers
Our unique fiducial marker array system provides a rigid, unambiguous set of landmarks to accurately (about 1mm) co-registers the subject to the images at surgery. The array is usually mounted to a non-invasive dental imprint platform. This means that you do not have to perform the surgery immediately after imaging and you can re-use the images for multiple procedures. This saves time and money and is less invasive for the subject (by removing the need for the stereotactic frame). The scanning is simpler and you can take advantage of a wider array of MRI coils to obtain even better images.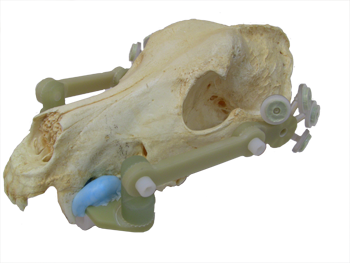 3D Image Reconstruction for Better Interpretation
Brainsight includes sophisticated 3D image reconstruction tools to allow you to explore the brain and skull prior to surgery.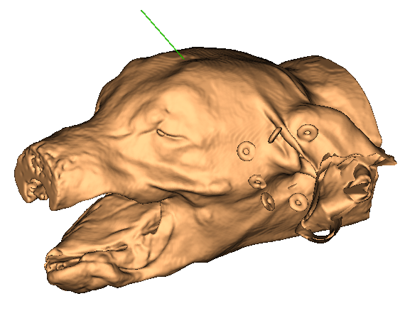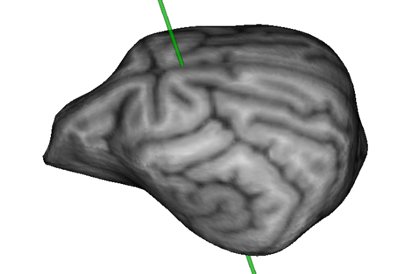 Surgical Planning: Needle Placement
Brainsight's surgical planning tools allows you to visualize your target as well as paths from the scalp into the brain. In the case of needle or biopsy placement, you can decide on your target(s) without the time pressure of performing the surgery immediately after imaging. Without the frame, you have the freedom to pick any approach to your target that avoids sensitive structures without having to perform complex calculations. Brainsight stores the paths to target and guides you along them in surgery using our Freeguide™ tool platform and articulated arm.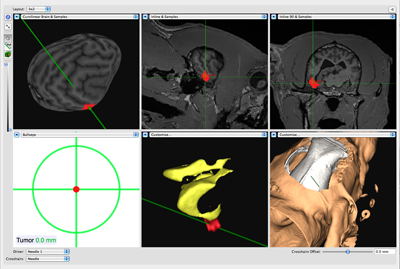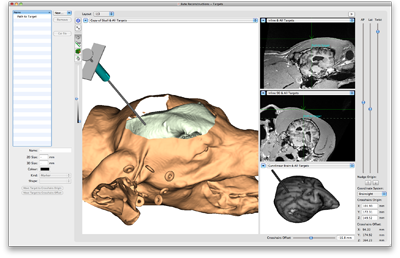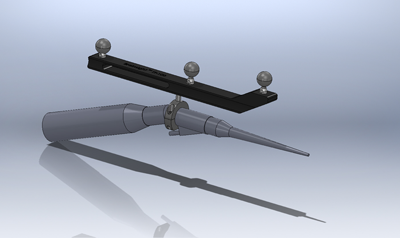 Surgical Guidance
Attach a tracker to your apiration dissection device such as a CUSA, Sonopet or NICO using Brainsight and visualize in "real time" the location of your tool as it aspirates lesions in close proximity to critical structures.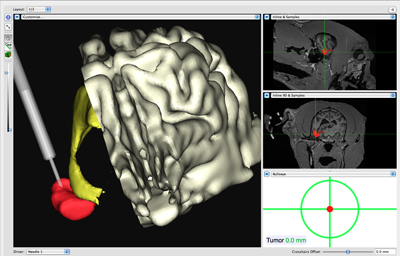 See:
Chen, A. V., Wininger, F. A., Frey, S., Comeau, R. M., Bagley, R. S., Tucker, R. L., … & Gay, J. M. (2012). Description and validation of a magnetic resonance imaging‐guided stereotactic brain biopsy device in the dog. Veterinary Radiology & Ultrasound, 53(2), 150-156. https://doi.org/10.1111/j.1740-8261.2011.01889.x
Long, S., Frey, S., Freestone, D. R., LeChevoir, M., Stypulkowski, P., Giftakis, J., & Cook, M. (2014). Placement of deep brain electrodes in the dog using the brainsight frameless stereotactic system: a pilot feasibility study. Journal of veterinary internal medicine, 28(1), 189-197. https://doi.org/10.1111/jvim.12235
Owen, T. J., Chen, A. V., Frey, S., Martin, L. G., & Kalebaugh, T. (2018). Transsphenoidal surgery: accuracy of an image‐guided neuronavigation system to approach the pituitary fossa (sella turcica). Veterinary surgery, 47(5), 664-671. https://doi.org/10.1111/vsu.12906