Brainsight Vet is more than software. It is a system that includes a neuronavigation program, an optical position sensor, a computer and custom surgical tools and implants.
Computer and Position Sensor
Our computer trolley starts with an Apple iMac computer with a 27″ screen. It is fixed to a mobile trolley with adjustable height to ensure you can get the computer location just right for you to see the screen during surgery.
The position sensor is a Northern Digital Polaris Vicra system. The Polaris line of position sensors has been the standard in the human neurosurgical navigation field since it was introduced.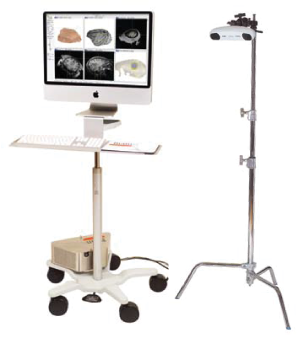 Surgical Chair and Clamp
When working with non-human primates, we borrowed from our experience with humans and developed a surgical clamp based on the human C-clamp. We resized it for smaller heads and added an improved version of the "starburst" fixation method. The clamp has a series of pins that come in contact with the skull for a secure fixation. The arm holding the clamp can be adjusted to accommodate almost any surgical setup.
The surgical chair is designed to provide comfortable support for the subject while ensuring good access for the surgeon as well as for the anesthesiology equipment.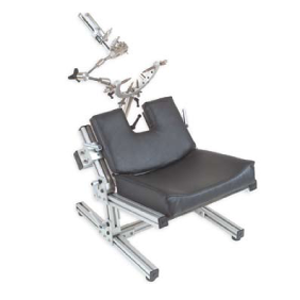 For veterinary applications involving larger animals, we have an articulated arm and clamp to fix the C-clamp to your OR table directly. We can adapt the system for virtually any need.
The Freeguide arm can also be fixed to any stereotactic frame to combine the freedom of the neuronavigation system with the familiarity of the surgical frame.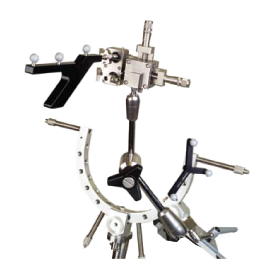 Other Surgical Tools
In addition to the Freeguide™, we have an array of custom surgical tools designed specifically for procedures involving frameless stereotaxy. We also design and build custom tools to meet the individual needs of our customers. From simple cannulas and biopsy needles, to complex electrode holder platforms, we can help solve any problem.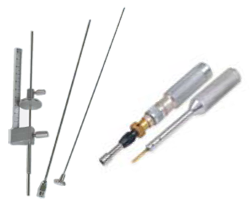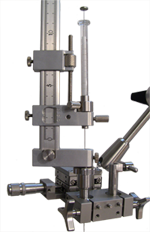 We offer all types of veterinary biopsy needles for your clinical cases including the smaller 16 gauge side-cutting types (8 mm windows).

MRI Compatible implants
The advent of MR guided procedures has brought in one new challenge: MR compatible implants. Since frameless stereotaxy was one of the first applications to make wide use of MR imaging, we have had to deal with this issue for a many years now, so it is not new to us. We have developed an array of MR compatible implants for our fiducial marker array, as well as for head fixation, and have acquired experience in the design and manufacturing of these using the best materials available. We have also built up extensive experience in surgical techniques to make the best use of these new tools. We would be happy to talk about any aspect of this with you.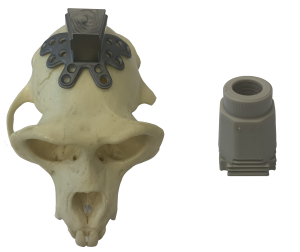 We offer the popular machine thread ceramic screw in many different lengths and sizes.

See:
Johnston, J. M., Cohen, Y. E., Shirley, H., Tsunada, J., Bennur, S., Christison-Lagay, K., & Veeder, C. L. (2016). Recent refinements to cranial implants for rhesus macaques (Macaca mulatta). Lab animal, 45(5), 180. https://doi.org/10.1038/laban.997
Ortiz-Rios, M., Haag, M., Balezeau, F., Frey, S., Thiele, A., Murphy, K., & Schmid, M. C. (2018). Improved methods for MRI-compatible implants in nonhuman primates. Journal of neuroscience methods, 308, 377-389. https://doi.org/10.1016/j.jneumeth.2018.09.013